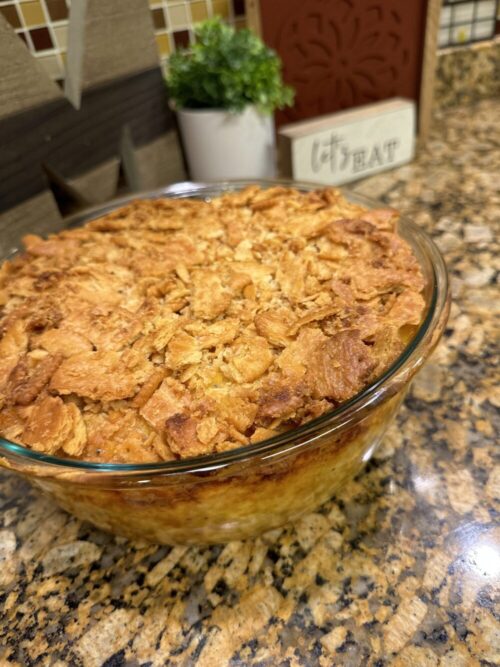 Scalloped corn
Ingredients
1 quart frozen corn thawed (4 cups)
1 sleeve of Ritz crackers (or another buttery cracker)- coarsely crushed
1 medium Onion finely chopped
1 tsp Sweet basil
1 tbsp sugar (may be needed depending on the sweetness of the corn)
2 eggs
1 cup shredded extra sharp white cheddar

1/8th cup whole milk
Kosher or Sea Salt and pepper (fresh ground is the best) to taste
Topping
1/2 sleeve of Ritz crackers coarsely crushed
2 tbsp unsalted butter
3 tbsp pecorino Romano or Parmesan cheese
Directions
Thaw corn prior to starting.
Move the rack toward the top of the oven and preheat to 325 degrees F. Grease a 2-quart baking dish with 1 tablespoon of butter.
Sauté onion until lightly browned. Be careful not to burn.
Whisk the eggs and milk together in a large bowl. Add the corn, 1 sleeve of the coarsely crushed Ritz crackers, 1 cup of the extra sharp cheddar and 1 teaspoon salt. Pour the mixture into the baking dish, use a spatula to make an even layer.
Bake uncovered until the edges are set, but the center is still wet (not set), about 35 minutes. Meanwhile, melt the remaining 3 tablespoons butter in a small dish in the microwave, about 25 seconds. Mix the butter into the remaining 1 cup crushed Ritz crackers until evenly moistened. Sprinkle Pecorino Romano cheese and the buttered crackers over the corn. Continue baking until the top is set and golden brown (the center should puff up), approximately 20 to 25 minutes more. To confirm that it is done, put a toothpick in the center and make sure it comes out clean.

If you find that the center is not done and the crust is already golden brown cover until it's done to prevent the top from burning.
Remove from the oven and let stand 5 minutes before serving.
Enjoy!
Check out Spiceology for an amazing selection of spices, rubs etc.